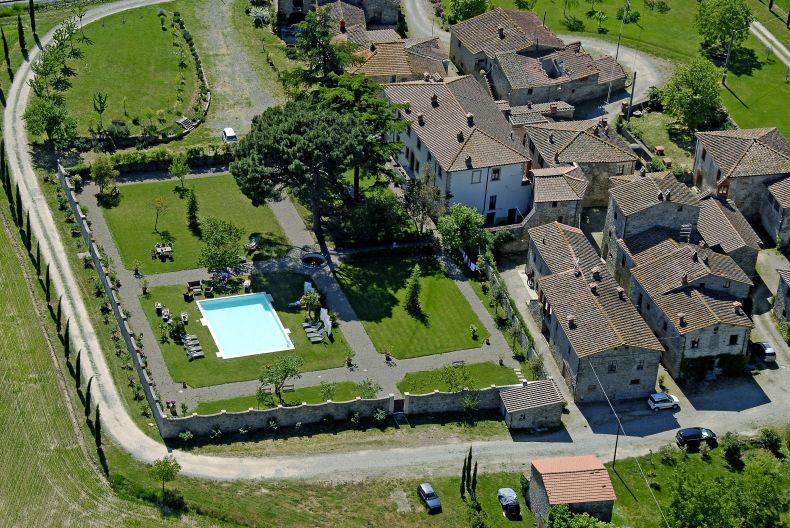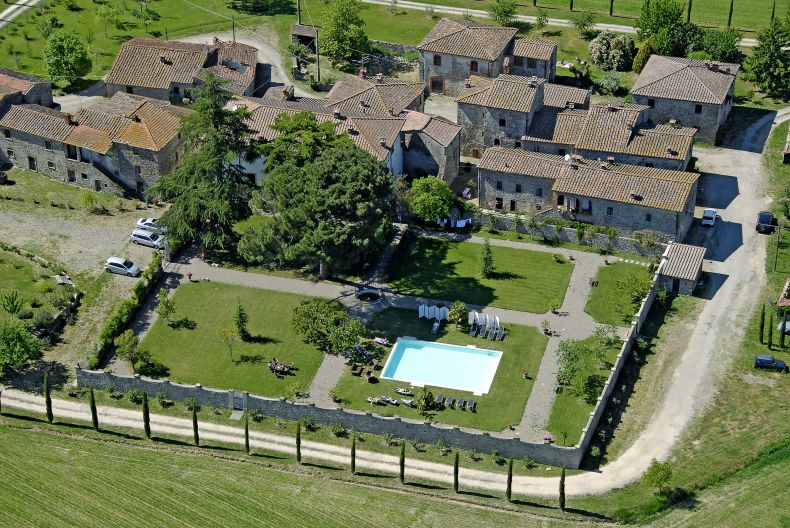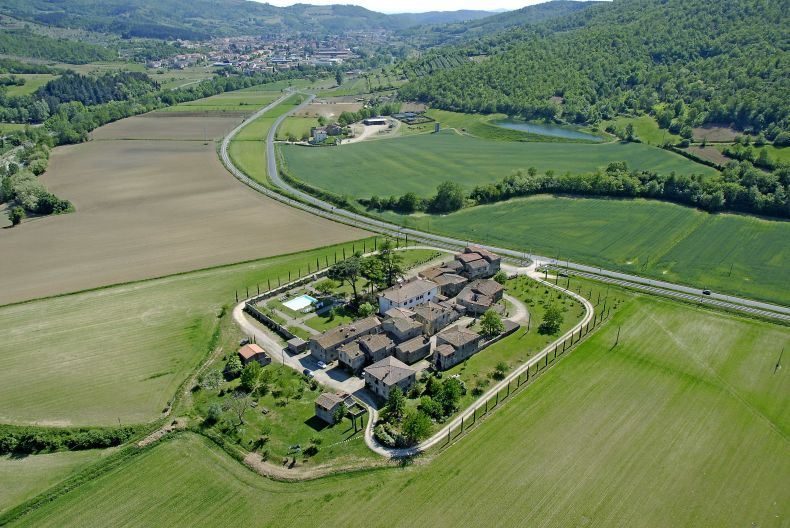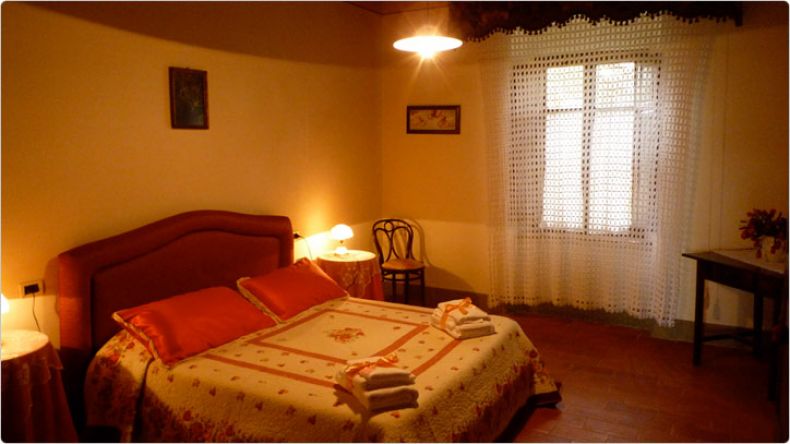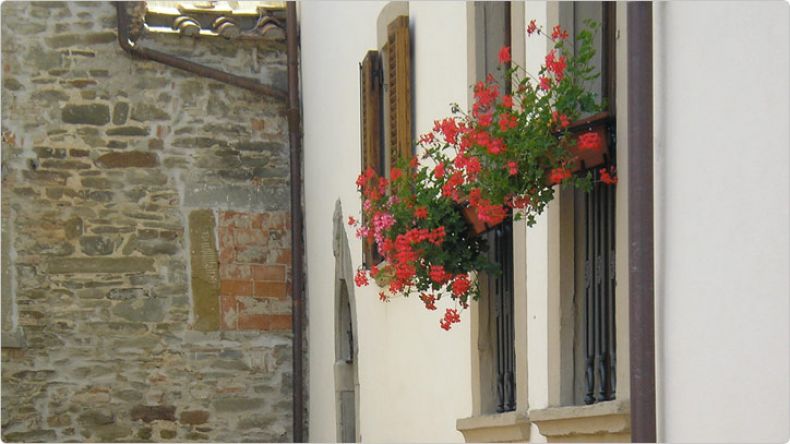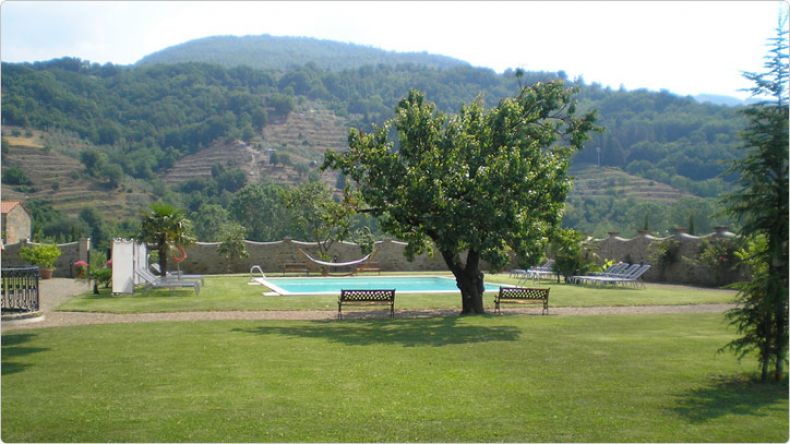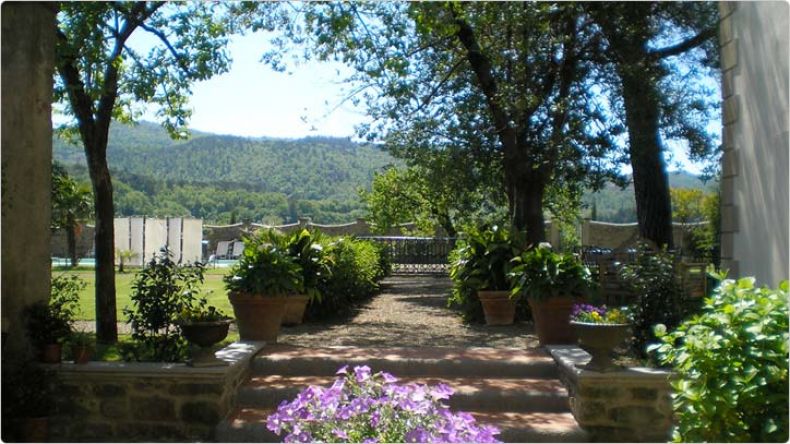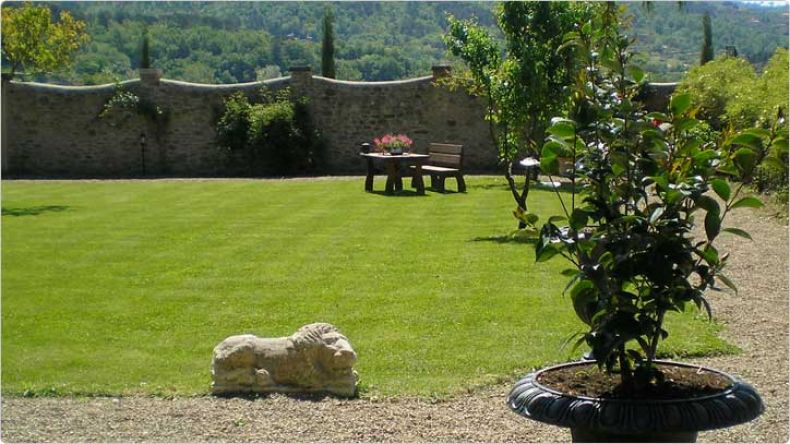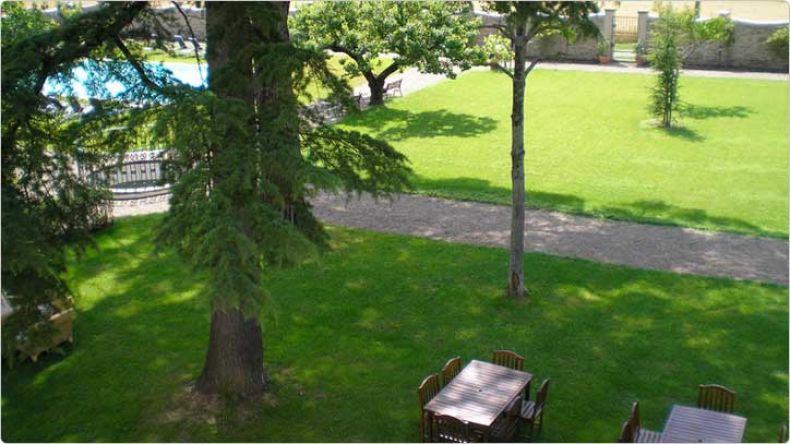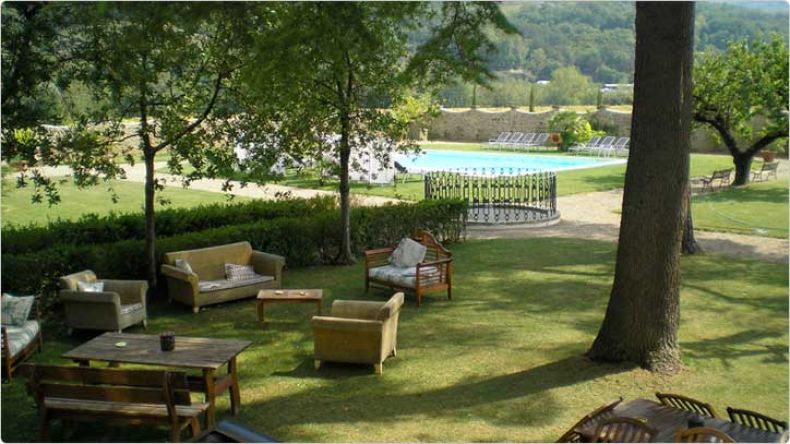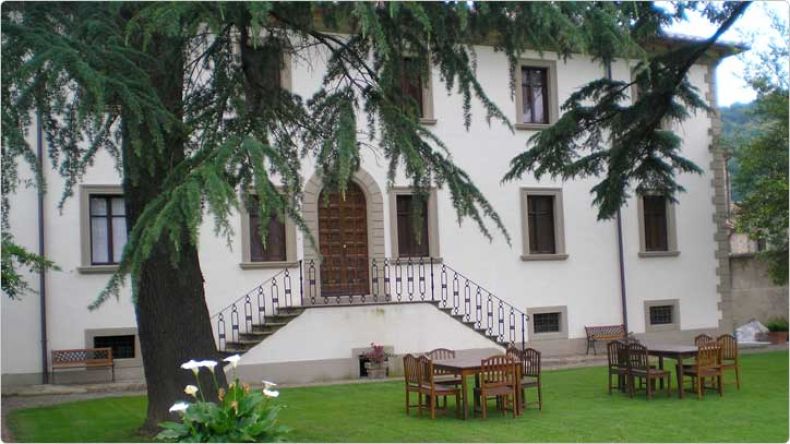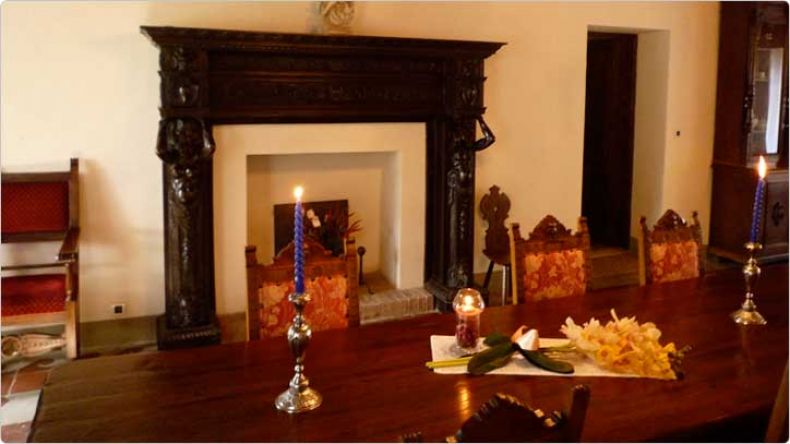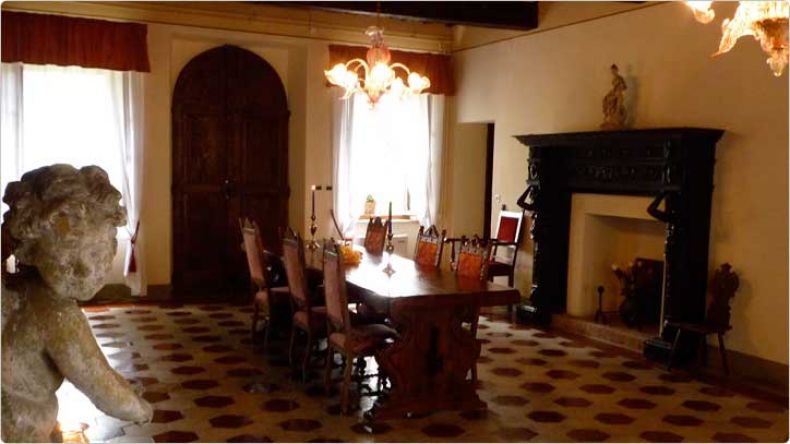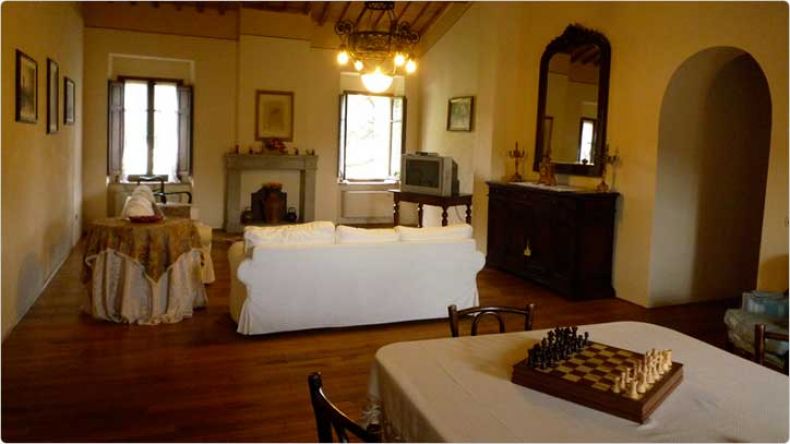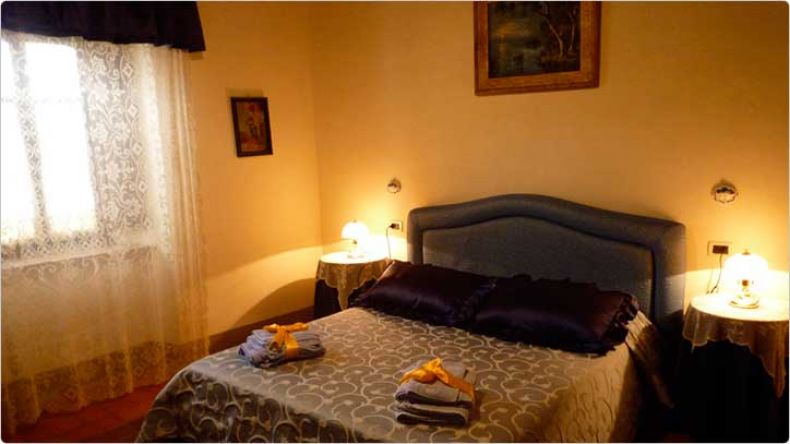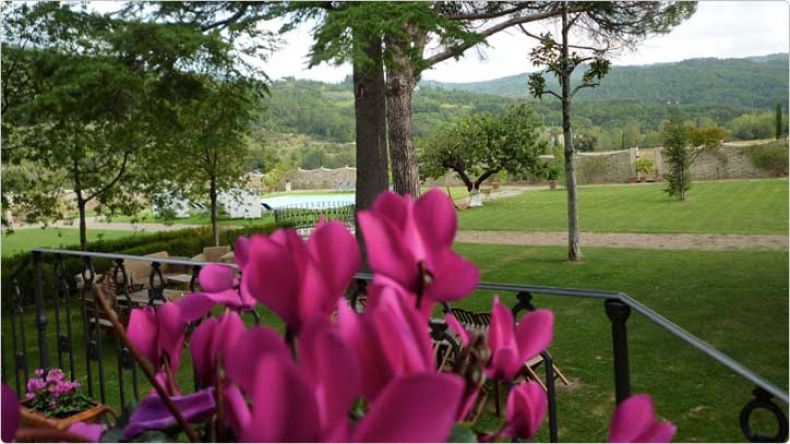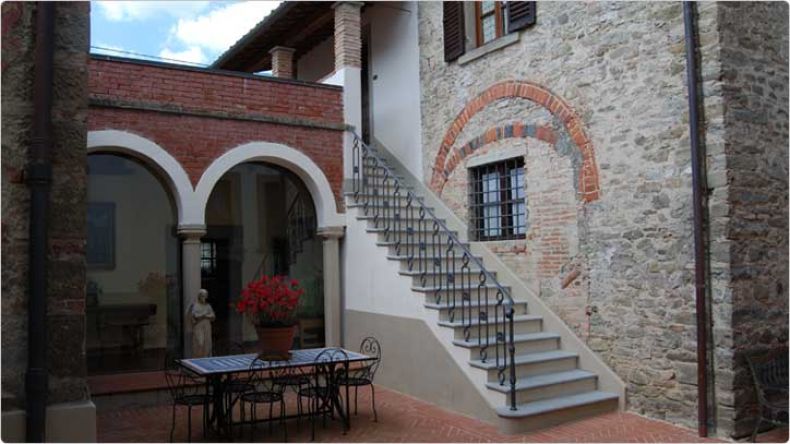 The fulcrum of the built-up area is the nineteenth-century villa with its Italian garden of approximately 2,600 square metres arranged around a central fountain from which four gravelled alleys lead to so many entrances.
The villa of 450 square metres includes two drawing rooms, a kitchen, a small dining room, a living room with a television set, 4 bathrooms and 7 bedrooms able to accommodate approximately 12-14 persons. From the drawing room with the fireplace on the raised first floor one goes down to the park, which includes a 8x12 metre swimming pool with changing room, shower and toilet.
On the north side of the villa there is a paved courtyard, bordered and sheltered by buildings on all sides. A carriageway affords access. This was once the administrative centre of the entire hamlet, with cellars, granaries, oil press and oven, in addition to the home of the fattore or farm manager, now restored and an integral part of the complex available to the clientele.
THE CASA DEL GUARDIA
The "Casa del Guardia" (Guardhouse) was the home of the farm manager, a typical figure of nineteenth-century sharecropping in Tuscany, who acted as a middleman between the owner and sharecroppers. His home faced the courtyard affording access to the rooms of the manor, cellar, oil press and granaries. The house on the first floor is typical of the area, with access by means of outside stairs. The interior is composed of a living room, kitchen, bathroom and two bedrooms.
Under the Guardhouse, there was an oil press.
THE SALETTA
An oil press no longer in service; the room was later turned into a dining room to accommodate the hunters who frequented the game preserve of Baciano. Today it is a hall with tables and chairs, and includes a recessed fireplace area with a horseshoe bench. There is an adjoining bathroom, as well as a fully equipped kitchen and the oven of 1838. These rooms can ve use for lunch room where you can eat all together (up to 70/80 person) or in the rainy days can be used as recreation room...
The place is all rented to one group of person (up to 18/20 person) or you can only reserve the Park, Villa and Saletta for smaller groups (up to 12-13 person)
In each way our guest decide with who they want to pass their vacation. The place is recerved only to one group by time!!